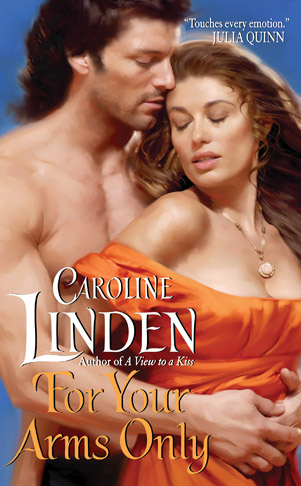 Welcome Ms. Caroline Linden to Love Romances and More, thank you for joining us.

Did you always want to become a writer?

Oh no. Not at all. As a kid I wanted to be an astronaut, of all things! In college I studied math, and after that I worked in financial services writing software. But I HAD always been a reader, and was in the habit of "improving" the plots of books I read that didn't quite match my taste, so in a way I was well-prepared the first time I sat down to write something all my own.
What is the most, and the least interesting fact about writing?

The most interesting is always how much fun research can be. Every time I go looking for information about one thing, I end up finding stuff that is just too cool not to use. Especially for a historical writer, Google Books rocks--lots of period resources are so old you'd never find them in a library near you, let alone a bookstore, but since they're out of copyright you can read the whole thing on Google.
The least interesting--or maybe most depressing--is the rise in e-book piracy. I know buying books can be expensive, and that FREE is so very tempting especially in this economic climate, but to authors like me--not a bestseller, and with no guarantee of a new contract--it really hurts when my brand new book is available for illegal download the same day it goes on sale. I'm glad people want to read my books, but if they keep pirating them, I won't get paid to write anymore (and I can't afford to write the books for nothing).
How did your family react to fact that you write romance novels? Have your family read your book?

My family thinks it is very cool. My son (when he was younger) used to approach people in the bookstores to tell them, "Hey, my mom wrote a book. Would you like to buy it? It's right here!" Some of the family have read my books, but not all. My husband's nephew read one and said he kept picturing my husband as the hero, and wanted a total mind scrub (which, honestly, is the way I would feel if I had to picture my uncle as a romance hero).
Most authors are also avid readers. Is this the case with you? If so, who are some of your favorites? Have any influenced your writing?

Absolutely! One of the hardest parts of writing is being strong enough to quit reading for pleasure. Some of my earliest favorites were Lisa Kleypas, Julie Garwood, and Judith McNaught. Then I discovered Julia Quinn, Laura Kinsale, Diana Gabaldon, and Linda Howard. And now I've added great new authors like Eve Silver, Elizabeth Hoyt, and Ann Christopher. I don't know if any of them have influenced my writing; I think I pick up ideas and so on from other sources, like movies and songs and headlines and even commercials.
Where do you get the inspirations for your books?

All sorts of places. A song on the radio, or some silly story about a friend, a movie... It's all fodder for the imagination. Now that my kids are getting older, I'm reading more YA books, to keep up with their interests, and I find lots of ideas in YA that I'd like to use, with my own little twist on them.
Do you find it difficult at times to write love scenes?

Sometimes--but when I find myself staring at the laptop and having no thoughts whatsoever, I realize that scene just isn't ready to be written. Love scenes in particular require a really strong understanding of the characters and what's happening at that moment in the story, for me, and since I write all out of order, sometimes those are practically the last thing I write, because it takes that long to get everything in place.
Do you have a problem with deadlines and have you ever suffered a writers block?

I can't remember who said it, but someone once said she suffered not from writer's block but from writer's malaise. That's me! So far I've been lucky enough to get to choose my own deadlines, and haven't had too many problems. I am one of those people who procrastinate a lot, but then get really motivated as the deadline approaches. For my last book, it took five months to write the first two thirds, and then three weeks to write the last third. There was some panic involved...
Do you prefer stand-alone books or series (As a reader or a writer) ?

It's a hard question. As a writer, there are definite advantages to a series; it gives you more space to build your world and develop characters who keep appearing, as well as save you the trouble of starting at zero with every book. But as a reader, I hate picking up a book in the middle and feeling I'm missing half the jokes and don't know what's gone on before. Not all series are labelled well enough to tell a) it's part of a series in the first place; and b) which number it is. So in the end, I like series, but each book really needs to stand well enough on its own that people can start reading at any point.
If you could change places with one character from your book, who would it be and why?

Hmm. Maybe none. I tend to write books with some suspense in them, guns and knives and kidnappings, none of which I want to happen to me or anyone I know. But just in terms of personality, I am most like Hannah, the heroine from What A Gentleman Wants.
What is your favorite book from the books that you have written so far? Who are your favorite hero and heroine, and why?

A favorite? Impossible to say. I just finished a book with a couple I really, really loved, especially the hero. But I tend to feel that way about every book after living with the characters for several months.
Would you like to give another genre a try?

Someday! I'd love to write a paranormal or a contemporary. But I love historicals best, and won't ever give them up.
Which book was the hardest to write and which the easiest?

The hardest to write was definitely
A Rake's Guide to Seduction
. The heroine was the younger sister of the heroes of my two previous books, and I had already written her as a rich, spoiled, beautiful young girl--thinking I would never write her book! So I had to make something bad happen to her. And then, to make it harder, my grandfather died while I was working on the book. There was a long period where I did not feel like writing a romance novel where everyone was going to end up happily ever after.
The easiest was probably my first book,
What A Woman Needs
, because I didn't have any deadlines or pressure or expectations. Or knowledge about how to write a book, actually. It was blissful ignorance.
If you could choose of your books for a movie, which one would it be and who would you as the cast?

I love (LOVE) action/adventure spy movies, like the Jason Bourne movies or the new Bond films. I think
A VIEW TO A KISS
would be a decent story on film, with a Romeo-and-Juliet romance running along with undercover spies and secret plots to overthrow the King. I've no idea who would be good in the roles, though!
Do you listen to music while you are writing and if so what music is it?

Movie background music. If there are words, I start listening too much to the music and get no writing done. My top album right now is the soundtrack from the recent Pride & Prejudice movie.
Big congrats to your latest release, For your arms only, can you please tell us something about the book?

Thank you! It's the second book in my Regency spy series, although I don't think you need to read the first book before this one. My hero, Alec Hayes, was a decorated army officer. He was severely wounded at Waterloo and went missing in the battle's aftermath, and when he woke up from his wounds, being nursed by a local woman, he discovered he was suspected of treason and presumed dead. To clear his name, he elected to stay presumed dead, and ends up as a spy for the British Home Office. But after five years, his older brother dies; Alec is sent home with one last mission from the spymaster, to find a man who's disappeared from his hometown. The heroine, Cressida Turner, isn't sure she wants Alec's help finding her missing father. Not only is everyone talking about the man come back from the dead, Alec definitely unsettles her world. As she reluctantly accepts his help, and they begin to work together to find her father, it becomes clear that her father has been keeping some dangerous secrets.
I think Alec and Cressida are well-matched characters, in that they both have a disaster in their past that they reacted very strongly to, and it's marked them ever since. Only when they find each other are they able to get past those disasters and hurts.
AND as a special bonus for this book, I wrote a companion short story. It's not independent, it's meant to be read with the book, but it's FREE. Everyone can read it here:
http://www.carolinelinden.com/deeperthandesire.shtml


Are you working on anything right now, and can you tell us a teaser about these projects?
I just finished the last of my Regency spy books, tentatively titled You Only Love Once. I think I've been waiting years to write this book; the heroine is a French-born spy (and assassin) for the British Home Office, and the hero is an American adventurer come to London with a mission of his own. It's really a historical romantic suspense, like Jane Austen meets Jason Bourne. It will be out next summer or fall. I'm also contributing a short story to the Mammoth Book of Regency Romance, which should also be out next summer sometime. I can't tell what that story's about because I still have to write it! :-)

Review of

A view to kiss